Nadir Ali
Chief Executive Officer
Nadir leads Inpixon with a collective two decades in enterprise software, business analytics, and information technology. He first served as Vice President of Strategic Programs at Sysorex from 1995 to 1998, wherein he ushered their transition to Vanstar and managed over $1 billion in multi-year contracts. This marked his trajectory into mergers and acquisitions totaling $150 million.
Nadir then shifted gears to Isadra Inc., an e-commerce software start-up, as VP of Finance and Marketing. Before stepping into Sysorex Consulting Inc. as President, he spent three years as Managing Director of Tira Capital.
For over 15 years, his executive-level roles at Inpixon (formerly Sysorex) tapped into the $12 billion industry of indoor positioning and data analytics, growing to $23 billion by 2021.
A University of California Berkeley 1989 alum, Nadir earned a BA in economics.
Soumya Das
Chief Operating Officer
Known throughout his career for innovative, product, and strategic marketing coupled with meticulous execution, Das implemented a complete rebranding of Sysorex to Inpixon within his first six months as CMO. Evolving into a COO role in February 2018, continued to trailblaze Inpixon Marketing, while also leading the Sales, Program Office, Regions, and Channel Alliance teams to success.

Beginning in 2001, Das directed marketing teams at CrownPeak (acquired by K1), LogicalApps (acquired by Oracle), IXOS (acquired by OpenText), FileNet (acquired by IBM), and Continuus (acquired by Telelogic).
Within the last five years, he operated as CMO of multi-factor authentication company SecureAuth, wherein he conducted their re-launch into the Identity Providor (IdP) brand. Prior to Inpixon, his role as EVP and CMO at Identiv fostered their repositioning into a single, consolidated security technology company.
Alongside an MBA at Richmond College in London, Das also received a Bachelor of Business Management degree from Andhra University in India.
Adam Benson
Chief Technology Officer
An entrepreneurial leader with a passion for disruptive technologies, Adam leads Inpixon's engineering teams. His experience includes leveraging innovation – including location-aware services, artificial intelligence, blockchain and internet of things – to deliver compelling business products and solutions for customers. His deep experience in retail, technology solutions, and data analytics is a rare combination.

Prior to joining Inpixon, Adam led digital initiatives at an Inpixon customer, one of the largest owners, operators and developers of retail and mixed-use properties in North America. His successes include the implementation of interactive digital advertising and wayfinding solutions; deployment of public Wi-Fi services at retail malls which included data analysis on behavior, customer profile management; prototyping of Internet of Things (IoT) sensors; and development of offline store visit attribution methodologies. Prior to that position, Adam was a founding partner in a professional services firm which focused on delivering business value through technology for SME clients.
Tyler Hoffman
Chief Revenue Officer
Tyler is a sales and business development executive who has served more than 20 years in revenue leadership positions at companies including PayPal, Google, Visa, eBay, and CNET Networks, with a track record of delivering innovation to customers, increasing revenue and profitability, and scaling operations.
His deep experience in enterprise software and SaaS spans across fintech, e-commerce, security, data, media, and retail.
Tyler earned a Bachelor of Arts degree in humanities with honors from the University of Oregon and resides with his family in the San Francisco Bay Area.
Wendy Loundermon
Chief Financial Officer
A financial management leader with 20 years of experience, Wendy entered Sysorex Government Services Inc. (now Inpixon) as Controller, and then become Director of Finance and HR. She attained Vice President of Finance in 2008, interim CFO in 2015, and then in 2019 became Chief Financial Officer and member of the Board of Directors. Wendy attended George Mason University where she earned a BS degree in accounting and MS degree in taxation.
Melanie Figueroa
General Counsel and SVP Corporate Development
Melanie Figueroa joined the Inpixon team as General Counsel and SVP Corporate Development in 2020 where she is responsible for overseeing Inpixon's legal affairs, including corporate governance, regulatory and securities compliance, financing, merger and acquisition activities, intellectual property and labor and employment, in addition to supporting the executive team in defining, executing and communicating the company's strategic growth strategy and business initiatives.
Melanie joins Inpixon from Mitchell Silberberg & Knupp LLP (MSK) where she served as the Managing Partner of MSK's New York office and a member of the firm's Corporate and Business Transactions department. In addition to nurturing and advising key client relationships, such as Inpixon, in connection with their strategic and corporate governance efforts, she assisted firm leadership with the growth and expansion efforts of the New York office, diversity and inclusion initiatives, as well as associate recruiting and development efforts, earning her numerous awards and recognitions.
David Westgate
Executive Vice President of IT Operations
Throughout his 22 years of experience, David has proven himself a leader in designing, deploying, and operating critical IT systems (including military applications), cloud infrastructure, virtualization technology, corporate networks, and data center design and operations. After leaving the U.S. Air Force in 1996, he was the Director of IT Services for McBride and Associates, managing both internal and client technology projects focused on modernizing and securing network and application infrastructure. In 2003, he joined Sysorex (now Inpixon) as Director of IT Services, then Senior Director of IT services, and in 2015 attained Vice President of IT Operations.
During his long tenure with Inpixon, David has demonstrated his wide range of expertise, including data center systems planning and implementation, network engineering, server and networking hardware, network security procedures, installation and administration of server operating systems, and application of disaster recovery and business continuity techniques.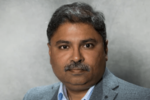 Shirish Tangirala
Managing Director of Inpixon India
During his 22 years of experience in applied engineering, IT, and business domains across five countries and three continents, Shirish has been an integral part of launching product and service lines and continues his legacy of excellence at Inpixon as CPO. He is a well-versed entrepreneur with an affinity towards product innovation and new business opportunities. His professional expertise encompasses revenue in brand-new markets, from evaluation, risk analysis, service, and revenue model development to launch, sustenance, and profitability management.
In late 1999, Shirish immigrated to the United States and launched New Century Global Solutions (NCGS), LLC, serving as President. NCGS was acquired in 2010, and he continued with the newly formed Global Medical Informatics, (GMI) LLC as President and CEO. In 2015, he accepted the position of Vice President at Sysorex (now Inpixon), driving the company's offshore delivery initiatives and product certification and compliance.
Shirish earned his BE in civil engineering majoring in computer applications at Osmania University in India.
John Piccininni
Vice President of Business Development
An industry veteran and leader, John is a business development and channel sales management strategist who develops long-term relationships with channel partners and users to grow brands. During the past 25 years, he has built partner networks, opened markets worth several billion dollars, and managed large-scale, complex sales for sophisticated identity-based physical security solutions — like Hirsch and Identiv — that span the globe. John knows how to build and maintain relationships that benefit all parties to a transaction and brings extensive experience in client needs analysis with a proven consultative approach to complex technology sales, driving business to and through the channel. A sought-after speaker, he is as comfortable at addressing large groups as he is with one-on-one conversations.
John holds an MBA from Loyola Marymount University and lives with his family in Newport Beach, California.
Chris Wiegand
Executive Vice President, Sales
With a track record of success in both business growth and business transformation, Chris has dedicated his career to discovering and creating business opportunities that address real-world needs.
In 2009, Chris co-founded Jibestream with a vision to create an indoor mapping platform that intersects real-time data with business rules to improve efficiency, productivity and engagement. The driving force behind Jibestream, he has led its incredible growth from an idea to a globally recognized leader in the indoor mapping world.
Chris joined the Inpixon team in 2019 with Inpixon's acquisition of Jibestream, where he continues to be a leading voice in the indoor intelligence space, driving success for the company's indoor mapping solutions.